If you work in the Purchasing Accounts Payable departments, you have inevitably faced this kind of questions: To whom were the goods delivered? Who has the time sheets of the consultants? Where is the original validated PO? Is it just an email or is it printed? Has the supplier been created in the ERP? Is his contact and bank account data up to date? Which cost center will it be allocated to? And what is the correct supplier number? I have 3 of them with the same name!
Many questions that generate a considerable loss of time and affect the effectiveness of teams.
The solution: focus on value-added, non-repetitive tasks that create wealth for the company.
Yes, but how do we go there?
1. Automate vendor invoice processing
As the first step in a successful S2P transformation, the automation of accounts payable makes it easy to get a quick ROI.
Indeed, rapidly implemented and within the reach of all companies, it fluidizes the entire procurement process, improves the supplier relationship and allows a significant reduction in the cost of administrative management of invoices.
At the center of digital transformation of procurement, automated invoice processing allows teams to focus on high value-added tasks, such as supplier management, payment optimization, budget compliance and monitoring.
This phase of automation makes it possible to develop an harmonious collaboration between the Procurement and Finance departments through a transversal solution.
This results in improved productivity through a centralized and fast access to information, greatly reducing errors. The fluidity of workflows offered by the various solutions on the market makes it possible to integrate employees in a verification and validation process under control by ensuring complete traceability.
Another benefit is the optimization of cash flow, through advanced tools such as "Dynamic discounting", which provides substantial discounts in exchange for advance payment of suppliers. Imagine for a moment, on a total expenditure of 300M for example, that you negotiate a discount rate of 2% for 15% of your suppliers, this is a direct saving of nearly 1 million.
Similarly, the efficient and concerted management of invoice disputes will strengthen the supplier relationship and increase its efficiency.
The automation of accounts payable has a direct impact on the results of the company: the ROI is reached in less than a year!
2. Digitalize the transactional flow
This approach consists in developing the fluidity of the processing the purchase requisition up to the invoice, to obtain an end-to-end Procure to Pay process.
Daily transactions, such as a purchase requisition (PR), a validation or a purchase order (PO) can be automated. The end user experience, through intuitive Amazon-like catalogs, ensures adoption, then fast ROI. Managers, through validation and control industrialization, can focus on budget tracking and category management strategy.
Procure to Pay processes thus integrates natively with e-invoicing, and allows harmonized communication across the supply chain, from the requester to the accountant through to the buyer. Having the entire process hosted in a single system also facilitates adoption and ensures seamless integration.
3. Use technology to identify new opportunities
Once released from the transactional and administrative side, buyers can focus on value-added strategic tasks, such as identifying opportunities, collaborating with suppliers on innovation, or fine-tuning their portfolio of categories. Purchasing is positioned as a true profit center of the company.
Today's technologies help the buyer to make strategic decisions, through several axis:
Spend analysis, which, thanks to machine learning and predictive analytics, allow anticipation and in-depth analysis. The buyer uses his dashboard to identify opportunities and trigger new initiatives (bundling contracts, risk mitigation, renegotiation, market analysis and tendering…)
SRM, allows full collaboration with the vendor without complex onboarding, performance and risk assessment, exception management, progress plans and a 360 ​​° view of the activity.
eSourcing, which today uses artificial intelligence to identify new potential suppliers, or advanced simulation technologies to develop complex scenarios for bids evaluation.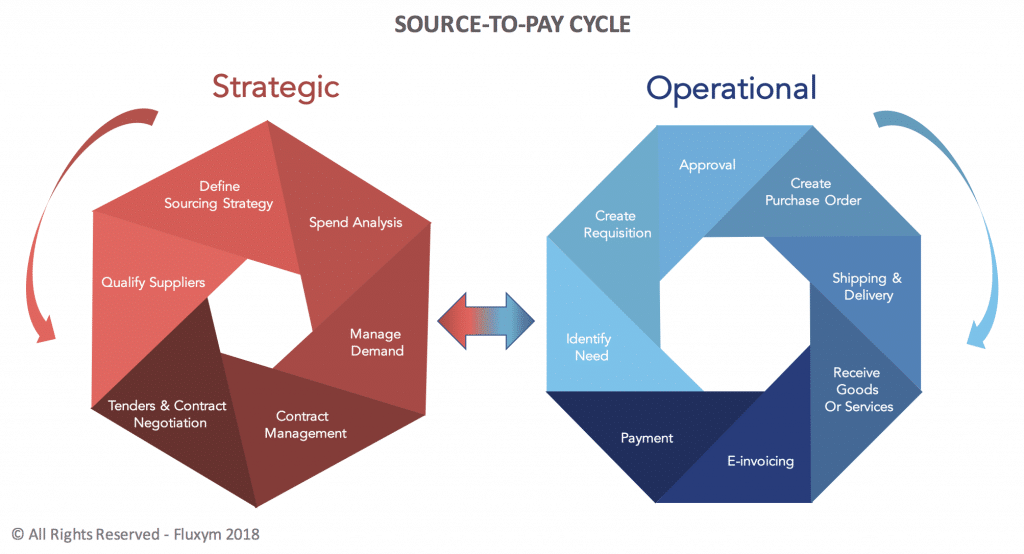 4. Orchestrate everything around pure data
Source-to-Pay processes are based on data. These data are key to make decisions and elaborate strategies. It is essential to have trusted data, which requires cleaning up and a clear and controlled governance process.
A dedicated supplier data management solution (SIM) is essential for success. It is a big challenge to manage the data of thousands of suppliers without having a "middleware" solution synchronized with the global information systems (ERP, e-sourcing, e-invoicing, etc …) used as a single source of truth.
Failure to do so would result in the creation of outdated or inaccurate data and the resulting consequences could be severe for the business.
If you want to know more about outdated or inaccurate data, click here.
In conclusion
Today, only 10% of CPOs believe they are equipped with the best available solutions for their Source toPay process. A "crawl, walk, run" strategy allows purchasing departments to acquire the most efficient tools by promoting a ROI to finance them with smooth change management, giving a breath of fresh air to teams.
Breathe … Automate … Breathe ….Automate…
We are on your side to guide your transformation, and build a winning roadmap together.
Breathe … Automate … Breathe ….Automate…
We are on your side to guide your transformation, and build a winning roadmap together.